Hallo liebe Dreadbag Freundinnen und Freunde,
die Festival Saision 2017 leiten wir dieses Jahr wie immer mit dem Summerjam Festival in Köln ein. Dieses Jahr sind wieder einige sehr sehenswerte Acts wie z.B. Damain Marley, Alpha Blondy, Protoje, Patrice, Jah9 und viele mehr an diesem Wochenende zu sehen. 🙂
Wie immer könnt ihr vorab die neueste Dreadbag Kollektion & unsere Dreadbag Klassiker bei uns am Dreadbag Stand (siehe Veranstaltungsplan P1) bestaunen, anprobieren und natürlich auch kaufen. Wie jedes Jahr sind Ron (Reggae Kleidungn & Accessoires) und Sven (Reggae Vinyls und CDs)  mit uns am Stand dabei und wir freuen uns schon auf unsere kleine "letzte" Reggae Festival Tour und natürlich auch enorm auf euch! Gute Vibes und gute Reggae Musik sind vorprogrammiert – Ihr seid alle herzlich eingeladen uns an unseren Dreadbag Stand zu besuchen – Be there or be square!
---
Summerjam 2017 – Veranstaltungsplan – Dreadbag Stand = P1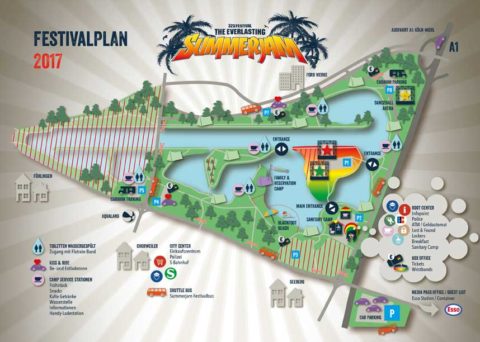 ---
Summerjam Festival 2017 – Running Order
Bless & one love – Euer Dreadbag Team