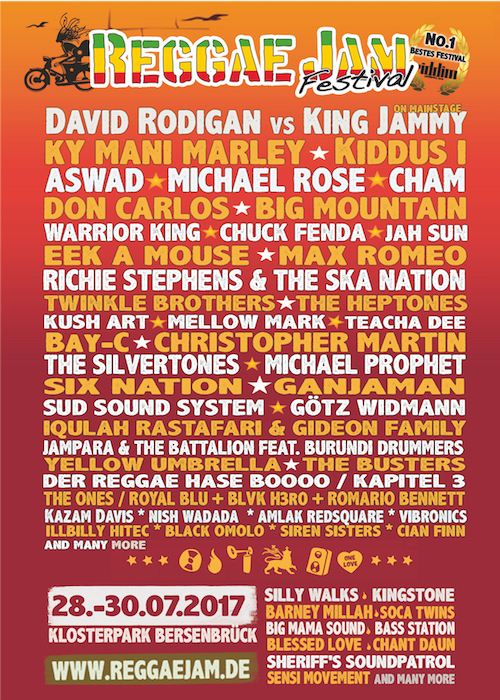 Juli 20, 2017
Hallo liebe Dreadbag Freundinnen und Freunde,
unsere Festival Saision 2017 geht weiter – Nächste Woche sind wir auf dem Reggae Jam Festival in Bersenbrück. Wie jedes Jahr kann sich das 100% Reggae Lineup wirklich sehen lassen und es stehen folgende Acts auf der Bühne: David Rodigan vs King Jammy, Ky Mani Marley, Kiddus I, Aswad, Michael Rose, Cham, Don Carlos, Jah Sun, Big Mountain, The Heptones, Horace Andy, Teh Silvertones, Kush Art, Anthony B, Chuck Fenda, The Twinkle Brothers, Michael Prophet, Warrior King, Teacha Dee, Richie Stephens & Ska Nation, Ganjaman, Götz Widman, Sud Soundsystem, Mellow Mark, Kazam Davis and many many more …
Wie immer könnt ihr vorab die neueste Dreadbag Kollektion & unsere Dreadbag Klassiker bei uns am Dreadbag Stand (wie immer am Schwimmband) bestaunen, anprobieren und natürlich auch kaufen. Wie jedes Jahr sind Ron (Reggae Kleidungn & Accessoires) und Sven (Reggae Vinyls und CDs)  mit uns am Stand dabei und wir freuen uns schon auf unsere kleine Reggae Festival Tour und natürlich auch enorm auf euch! Gute Vibes und gute Reggae Musik sind vorprogrammiert – Ihr seid alle herzlich eingeladen uns an unseren Dreadbag Stand zu besuchen – Be there or be square!
---
Reggae Jam Festival 2017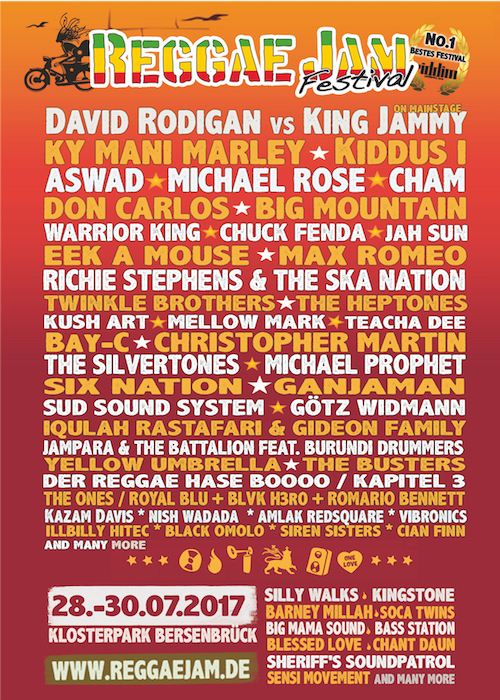 Bless & one love – Euer Dreadbag Team